Admission Summit 2020
Last week, June 1-3, we welcomed almost 300 admissions professionals from across the globe virtually to our Admissions Summit 2020.
This event follows our inaugural Admissions Summit, held last year in Toronto – but, due to the coronavirus pandemic across the world, the decision was made to change our in-person summit to a virtual one this year. This allowed people from across the world to participant from the comfort of their homes, who would otherwise not have been able to attendee due to travel. With our learnings from this year, we look forward to holding a hybrid of in-person and online for Admissions Summit June 7-9, 2021: sign up here for information.
Whether you were able to attend this year's Summit or not, we thought we'd share some of our highlights around the keynotes from this year. You can also check out the hashtag #AdmissionsSummit on twitter to see some of our attendees favorite moments.
Three Good Things
Anyone who attended the Summit will agree that the keynotes this year were nothing short of amazing. Dr. Bryan Sexton from Duke Center for Healthcare Safety and Quality, opened the Summit with a great discussion on workplace burnout, and the science of enhancing resilience, including his work with 3 good things, where every day for 3 weeks, before going to sleep, you write down 3 things that went well that day. This retrains the brain to look for the positives and not the negative. The team at Altus Assessments has already started to implement this small ritual, and seeing great results. More information can be found here.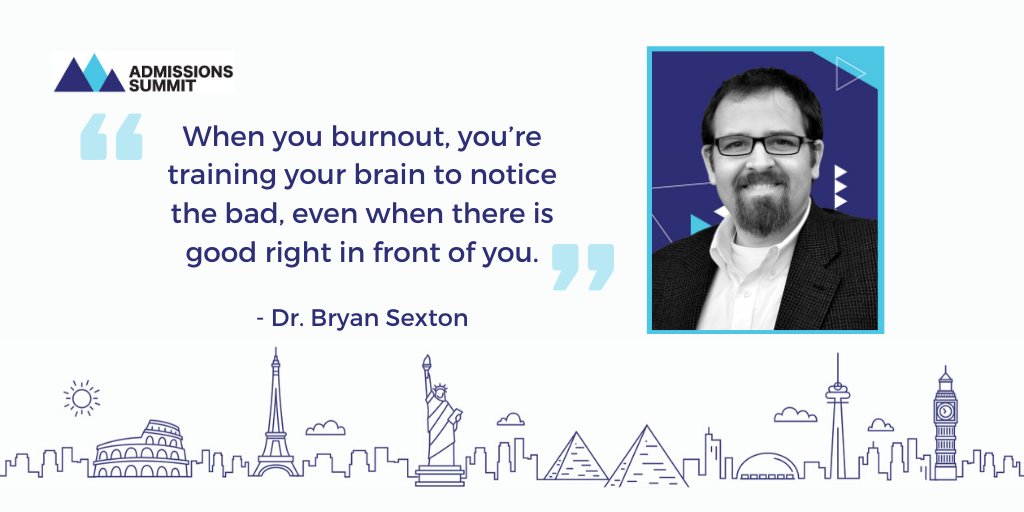 No Labels, No Limits
On Tuesday, we welcomed America's favorite hearing impaired comedienne Kathy Buckley to the virtual stage for a keynote that no one will forget on breaking labels and limits around you. There was not a dry eye in the audience as Kathy talked about the limits and labels we place on ourselves, and others. She talked about how all anyone wants in life is to get respect, but to get it you have to give it. And before you can give it, you have to have it for yourself. And, that passing judgement or putting labels on someone else, really is putting them on yourself. Kathy reminded attendees about the power of forgiveness and moving forward with no labels.
Reigniting Emotional Energy
Our afternoon keynote was with speaker and coach Chihab Kaab, on reigniting emotional energies when we've been trained to take on more and more while having less and less time. Attendees enjoyed this interactive session of answering questions from personal experiences with overcommitting and being too busy for self-care. Most were surprised to learn that work capacity starts to decline at 30, and were recharged with strategies across physical, spiritual, mental and emotional wellbeing. This keynote helped us all refocus and recharge.
Diversity, Racism and Bias in Admissions
On the final day of the Admissions Summit we started the day off with a timely, and impactful talk from Dr. Cedric Bright on diversity, racism and bias in admissions. Given the current climate across the globe, it was a chance to come together and take a look at how to improve diversity while decreasing bias and standing up against racism in admissions. A key point of his session that stuck with so many was the reminder that if everyone is thinking the same, then no one is actually thinking.
Equity, Illusion and Diversity
We wrapped up our keynotes with Dr. Saleem Razack talking about equity, illusion and diversity where he echoed and tied into the themes of Dr. Bright on the need to increase focus on reliability and validity of assessments when selecting people into programs. Dr. Razack spoke at length about the different logics of fairness, and the movement towards inclusivity and diversity through adapting new perspectives and practices in healthcare admissions.
We can't believe the Admissions Summit 2020 has come and gone! Want to make sure you don't miss news about the next Admissions Summit happening June 7-9 2021? Sign up here. We've already started planning and can't wait to welcome you back in-person and online next year! Or comment below, and let us know what your favorite keynote or discussion was during this year's Summit.